Campbells Creek Walking and Cycling Trail
The Campbells Creek Trail runs from Forest Street, Castlemaine, to Campbells Creek Park, Campbells Creek. Except for a detour to avoid a yet to be resolved complication north of Princess Street the track runs alongside (or close to) Campbells Creek. (More precisely expressed, the track initially runs besides Barkers Creek until the confluence with Forest Creek and thereafter the combined flow is known as Campbells Creek.) There are several bridges on the route where the track passes over the creek or under roads and the Castlemaine Maldon railway line. The track crosses flood plains covered with native vegetation and it is remarkable, at some points, how remote an observer can feel from the urban environment to the east.
The map was produced with the assistance of the Friends of Campbells Creek Landcare group.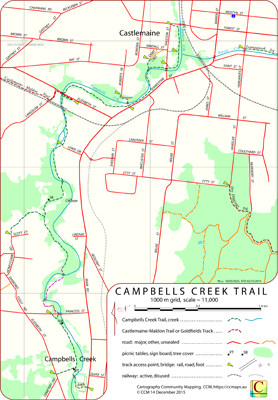 The track surface is generally excellent and of low gradient. The track has many access points along it so there is the opportunity for planning interesting routes. There is access to the start of the Castlemaine to Maldon Trail at the Elizabeth St bridge. (Take care if making an arrangement to meet someone, there is an Elizabeth Street in the north and another in the south.)
The intended hardcopy format for the map is A4.
Friends of Campbells Creek Landcare Group
The Friends of Campbells Creek Landcare Group was started in 2000 to improve the environmental health of the Creek and make it and the surrounding public land a community asset. The group has worked with the Mount Alexander Shire Council and government agencies to eradicate weeds, re-establish indigenous vegetation and to improve access to the creek area for recreation and education. The group's efforts have resulted in the almost complete elimination of blackberry and gorse, the re-establishment of indigenous vegetation and, of course, the walking track. The group's web page (including contact details) is available at www.focc.org.au.
Earliest Field Data and Updates
02/12/2015 – Earliest field data.
28/01/2016 – Access point at Camp Crescent included. Minor detail changes.
06/10/2016 – Minor detail changes.
10/01/2019 – Minor detail changes, start of Castlemaine to Maldon Trail included.
Campbells Creek Trail Downloads
| | |
| --- | --- |
| Map PDF for printing at A4 (PDF 0.3 MB) | Download |
| KMZ file (3 MB, 12 tiles) | Download |
Information on the use of the file formats available above can be found via the Appendices dropdown menu in the header.