Fryers Ridge Walking Tracks Map
This CCM topographical map covers the major part of the Fryers Ridge Nature Conservation Reserve west of Taradale, Victoria, Australia. The west edge of the Reserve is delimited by the Fryers Ridge Track. The east edge of the Reserve is delimited by the Coliban Main Channel. The service track alongside the portion of the channel within the reserve is accessible to walkers. Generally the gradient of the service track is very low.
A Taradale and District Walking Group member comments, "(the reserve) is known locally as being one of the best wildflower areas. The show starts with August wattles and continues until December".
Acknowledgements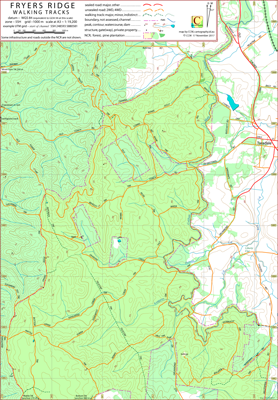 My thanks to the Taradale Community Forum for introducing me to the area covered by this map and to members of the Taradale community for alerting me to features within the reserve that I may have otherwise overlooked.
Additional Information
The Taradale Community Forum has produced support material, including maps of recommended walks along the Coliban Main Channel, in the Fryers Ridge area and around interesting places in Taradale. This material is available via the Track and Trail page of the Taradale website.
Coliban Water provides information about the Coliban Channel system and a history of Coliban Water including channel construction via Coliban Water History.
Hazards
As a result of previous mining activity there are some mine shafts within the Fryers Ridge Nature Conservation Reserve. Travellers should take care.
Potential Confusions
Fryers Ridge Rd is marked as Fryers Ranges Rd on some maps. There are two roads named Cypress Drv; one to the north of the Reserve, the other to the east. These two roads are connected by the northern section of Salt Water Trk. The names Dearden Creek Trk, Dearden Trk, and Deardens Trk are used on signposts and maps to nominate the same track. There are two creeks named Kangaroo Crk in the reserve; broadly, one in the south, the other in the north. Roads within this region, may be, in different circumstances, referred to by a local name eg Old Coach Rd or a geographic name, eg the Fryerstown Rd.
Earliest Field Data and Updates
20/11/2017 – Earliest field data.
09/09/2018 – Track detail within Fryers Ranges State Park increased.
23/02/2021 – Track detail west of Matchett Road (635 870) showing access routes to that section of the State Park added. Thanks to Christine H. for alerting CCM to these routes.