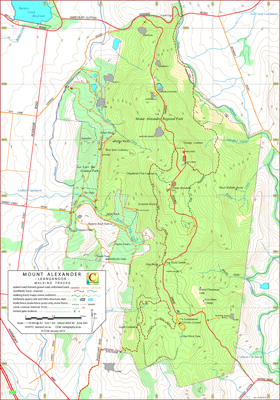 Mount Alexander Walking Tracks Map
Mount Alexander is in Victoria, Australia – south of Bendigo, east of Castlemaine. The Goldfields Track (this section of the track is common to the Great Dividing Trail and the Leanganook Track) crosses Mount Alexander.
The intended hardcopy format for this map is A3. It is available in two PDF versions: single-sided map only, and double-sided with the map on one side and notes on Mount Alexander on the other. The double-sided version may be folded into a leaflet format. First fold the sheet in half with the text on inside, then fold each 'wing' back (that is, with the map on the inside of the fold) in a concertina fashion.
Maps of the Harcourt District are available on the Harcourt Valley Heritage and Tourism Centre website.
Ambiguities and Uncertainties
Shepherds Flat Lookout is sign posted at some locations in the CDNHP as Shepherds Flat. Shepherds Flat (not clearly defined) is northwest of the Lookout [HVHTC].
Earliest Field Data and Updates
03/07/2013 – Earliest field data.
01/04/2015 – Small cave included (200 m west of South Peak). Timber cover detail in "plantation area" to west of the Regional Park supplemented by field assessment.
21/10/2016 – Some detail around Barkers Creek Reservoir included. Indistinct track on route to Shepherds Flat Lookout included. Version number discontinued, date is available in bottom right corner.
17/09/2017 – Minor and cosmetic changes.
28/03/2018 – The La Larr Ba Gauwa Mountain Bike Park was opened on the 9th March 2018. Details about the mountain bike component of the Park can be found on this DELWP site. Public vehicle access to the old plantation area is now restricted by locked gates to "The Oaks" area. This update includes these gates.
27/06/2018 – Errors on some northings corrected. (The error was notational, the georeferencing of the MAP and KMZ files was unaffected.)
01/02/2019 – Detail changes, walking tracks graded major, minor, indistinct.
21/12/2022 – Additional data in the vincinity of northern section of the Coliban Main Channel included. Overall Main Channel alignment improved.
Mount Alexander Walking Tracks Downloads
| | | | |
| --- | --- | --- | --- |
| Single-sided PDF map for printing at A3 (0.5 MB) | Download | Double-sided PDF map and notes for printing at A3 (4.5 MB) | Download |
| Some points of interest as GPX file (6 kB) | Download | Listing of POIs as PDF file (10 kB) | Download |
| KMZ file (10 MB, 20 tiles) | Download | OziExplorer file set (details) (< 4.2 MB) | Download |
| GeoPDF file (< 2.5 MB) | Download | | |
Information on the use of KMZ, GPX and OziExplorer files available above can be found via the Appendices dropdown menu in the header.