The CCM Paddys Ranges State Park Maps
These CCM topographical maps cover Paddys Ranges State Park close to Maryborough, Victoria, Australia. Some of the notable features in the area are Billy Button Hills, Karri Track Camping Area and Settling Ponds Track Picnic Area. There is a network of designated walking tracks within the park.
There are two CCM maps available: Paddys Ranges Overall and Paddys Ranges Centre. Paddys Ranges Overall covers the entire Paddys Ranges State Park and is intended to provide general access information. Paddys Ranges Centre covers the part of the park containing the Billy Button Hills, Karri Track Camping Area, Settling Ponds Track Picnic Area and the designated walking tracks.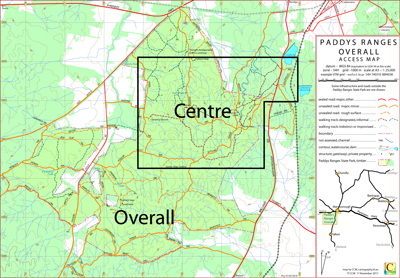 In general the main tracks within the park are well signposted.
File formats and data
Each map is available for downloading as a PDF file. The intended print size is A3. Information on the use of KMZ and GPX files with Google Earth and GPS units can be found via the Appendices dropdown menu in the header.
Hazards
As a result of previous mining activity there are some mine shafts within the Paddys Ranges State Park. Travellers should take care.
Potential Confusions
On the two CCM maps only the boundary of the State Park is indicated; the boundary of the adjoining State Forest is not indicated. On the ground the southern end of BARTLETT TRK is signposted LOCKWOOD TRK.
Earliest Field Data and Updates
02/10/2017 – Earliest field data.
26/02/2018 – Increased minor track detail north of Lockwood Track and north of the west end of Possum Gully Track.