Taradale NCR Walking Tracks Map
This map covers the Taradale Nature Conservation Reserve (Taradale NCR) and the Metcalfe State Forest. Victoria, Australia.
The intended hardcopy format (as PDF) for this map is A4.
Detailed walks in the Taradale area may be found via the Taradale Community Forum website.
Access to the map area
Although the Calder Freeway passes through the centre of the map area, there is no direct access from the freeway to either the Taradale NCR (on the west) or the Metcalfe SF (on the east). A traveller coming from the north on the Calder Freeway might consider taking the Castlemaine turnoff and then heading south to Taradale. A traveller coming from the south on the Calder Freeway might consider taking the Malmsbury turnoff and continuing through Malmsbury to Taradale.
Comments and Potential Confusions
Within the Taradale NCR there is a Parks Vicroria "Temporary Fire Control Line" located on the north side of the Metcalfe-Taradale Road. This feature is not shown on the CCM map.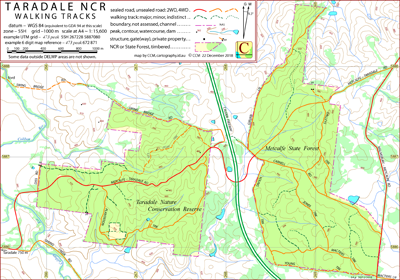 The utility of the ford across the Coliban River near the western end of Swing Bridge Road will be dependent on the state of the river at the time.
The signpost at the west end of Carnell Road offers "Dry Weather Trk" apparently as an alternative name for "Carnell Rd".
Earliest Field Data and Updates
21/11/2018 – Earliest field data.
Resources accessed in preparing the Taradale NCR map
CCM has walked all the tracks and roads indicated within the Taradale NCR and the Metcalfe SF. Other data sources are:
Taradale NCR Walking Tracks Downloads
| | | | |
| --- | --- | --- | --- |
| Single-sided PDF map for printing at A4 (0.3 MB) | Download | KMZ file (< 5 MB, 12 tiles) | Download |
| Listing of POIs as PDF file (< 50 kB) | Download | POIs as GPX file (< 10 kB) | Download |
| OziExplorer file set (details) (< 2 MB) | Download | Geotiff file (24 MB) | Download |
Information on using the additional files above can be found via the Appendices dropdown menu in the header.